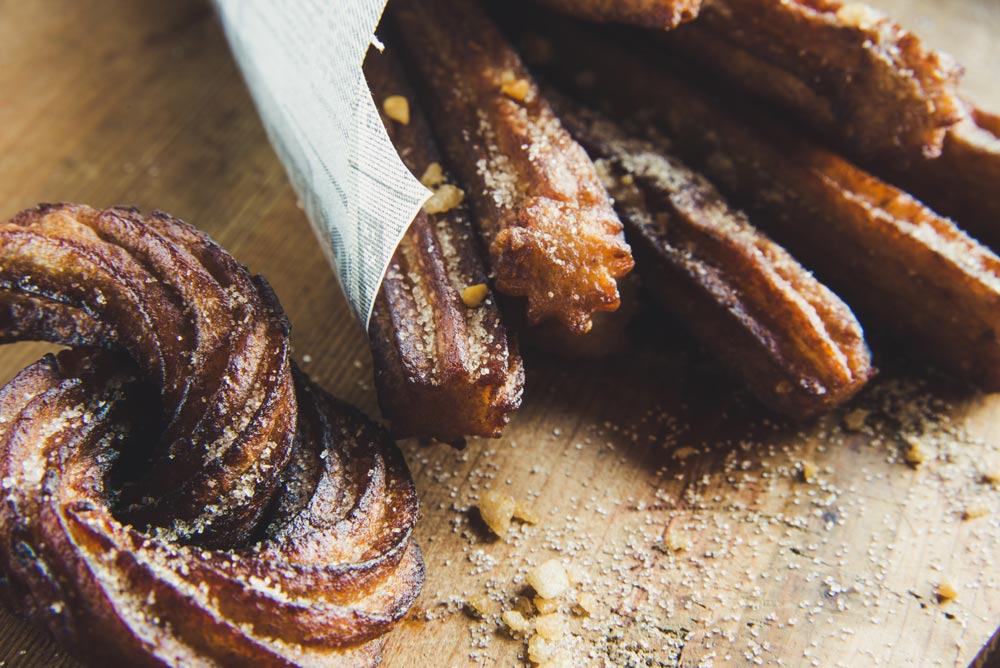 04 Nov

This autumn, fight Berlin's cold, sipping Chocolate with Churros at El Colmado

Since the very beginning, we have been proud of the objectives that our Spanish restaurant in Berlin pursues: the first is our humanitarian vocation and the second is to promote the best products of Spanish gastronomy.

Regarding the first, millions of people suffer from hunger every year. In our Spanish restaurant in Berlin, thanks to the collaboration with the NGO Mary's Meals, for each dish of our menu or the purchase of our incredible gourmet products, you feed four children who do not have access to daily food. A motto that we call "Meal for Meal": a dish that not only feeds you but that also feeds others who need it most.

Regarding the second objective, we play with advantage in our commitment to Spanish gastronomy. Spanish gastronomic culture has a long historical journey and is as well- known as valued worldwide. That the streets of Berlin know tapas, as well as dishes from special corners such as the Padrón peppers or the mojo picón is a meritorious act, but it also has something romantic about it.

In that sense, this post allows us to explain you a breakfast option that helps to fight Berlin's cold, as well as to satisfy the appetite of early morning.
CHOCOLATE WITH CHURROS TO BEAT BERLIN'S COLD
Chocolate with churros is one of the most typical breakfast dishes that we can find within the wonderful Spanish gastronomy. In fact, it is also widely known and produced in Latin American countries such as Argentina, Chile or Uruguay for more than a century. It is a dish that is usually eaten early in the morning, although it can also be consumed as a snack, to combat cold. Winter, which is getting closer and closer, is the time of year that is propitious to try this tasty and delicious breakfast with which to satisfy your mouth and live with the chilly climate so typical of our beloved German capital.
In churros with chocolate we can find a mixture of sensations: the sweet taste of hot chocolate confronting that aroma of the oily, salty and crunchy churro. Certainly, although it can also be taken with coffee, chocolate is a special part of this dish, being the main piece that causes the churro to acquire more flavour and texture.
If you want to try this magnificent breakfast, we invite you to El Colmado so that you can discover first-hand the chocolate with churros, typical dish of Spanish gastronomy.
IF YOU LIKED THIS POST ABOUT  "This autumn, fight Berlin's cold, sipping Chocolate with Churros at El Colmado"SURELY YOU WILL BE INTERESTED IN..